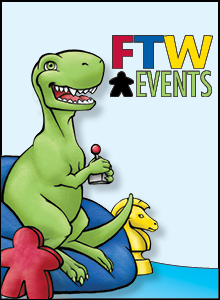 A Return to the Top of the World: Night of Gaming for Good
Columbia Tower Club
701 5th Avenue 75th Floor, Seattle, WA, 98104
Friday, September 03, 2021 6:00 pm until 1:00 am
Organized by: Matt Winberry (Contact)
Event Description
PLEASE NOTE: This is a fully vaccinated event!
All guests MUST be fully vaccinated by the day of the event. This means you must be 2 weeks out from the 2nd dose of either the Pfizer or Moderna vaccine, or 2 weeks out from the single dose Johnson & Johnson vaccine. Proof of vaccination will be required. We sympathize with folks who are unable to receive the vaccine for medical or other valid reasons, but at this time we cannot in good conscience host the unvaccinated. With new variants of the virus that are driving Covid-19 cases our community, we believe it is still not safe without the protection of the vaccine. We look forward to hosting those folks at a future event, when the threat of Covid is no longer a palpable danger. This was a bittersweet decision, so thank you for your cooperation and understanding.
The state of Washington currently mandates masking at indoor public events. At our event, we will be employing restaurant rules for masking. This means that if you are up and about, please wear your mask. If you are seated at your table eating and/or playing games, you do not need to wear your mask.

You are encouraged to carefully read our COVID-19 Safety and Precautions page for the full details of how we are mitigating the risk of exposure. By attending, you acknowledge that even with the precautions in place, as with any public event, there will always be an inherent risk.

If you already have a ticket:
If you have already purchased tickets for the original March 2020 event, your ticket will be honored for the rescheduled September 3, 2021 event and no further action is needed. If you wish to receive a refund, you have until August 20th to request for one.
~~~~~~~~~~~~~~~~~~~~~~~~~~~~~~~~~~~~~~~~~~~~~
FTW Events and Calliope Games are proud to present A Return to the Top of the World: Night of Gaming for Good!
Join us Friday, September 3rd, 2021, for a triumphant return to the Top of the World! Spend an evening with the tabletop community as we play games, feast from a fantastic buffet, enjoy gorgeous panoramic views from the 76th floor of the Columbia Tower (the highest publicly accessible point in the city), and raise funds for a great cause.
Our beneficiary, the Imagine Guild, supports the Seattle Children's Hospital, Uncompensated Care program. This program helps vulnerable families by easing the financial burdens of their medical needs, allowing them to focus on the most important thing - the child's health.
When: Friday, September 3, 2021, 6:00 PM - 1:00 AM
This is Friday night during PAX West weekend, though you do not need to have a PAX badge to join us.
Where: Seattle's Columbia Tower Club, 701 5th Avenue, 76th Floor
An 8-block walk or $5 Uber/Lyft ride from the Washington State Convention Center.
Why: Because after the year+ that we've all had, we deserve to have a safe, nice night out where we can laugh, play, and be merry once again. Because you love to game. Because you love helping a good cause. Because you'll be able to meet many other gamers, industry folk, and special VIPs from the community. Because nothing beats the city view from the Columbia Tower. Because we will have thousands of dollars in gaming and geeky prizes. Because you LOVE TO GAME!
General Admission ~ $79+
Includes a buffet dinner, a SWAG bag, one raffle ticket, 2 $10 vouchers to our pop-up game store and all the games you can play in our lending library! Prices go up for procrastinators, so once the tickets go live, don't wait too long!
VIP ~ $210+
Dine in style with our guests of honor. You'll be served a plated 3-course meal from an exclusive menu in a private dining and gaming room overlooking the city, with other VIP ticket guests and VIP industry guests from the gaming community. The VIP package also includes a premium SWAG bag chock-full of exclusive VIP games and goodies, 2 drink tickets, a golden raffle ticket, 2 $10 vouchers and a $25 gift certificate to our pop-up game store.
A Night of Gaming for Good
Win from thousands of dollars in gaming prizes from our amazing sponsors!
Have a great time meeting and playing with other gamers. Going solo? No problem! We'll have matchmaking "looking for players" signs available.
Meet and pick through the brains of game designers while playing the games they've created.
Check out games from our extensive lending library (you're welcome to bring your own as well).
Purchase new games with 2 vouchers for $10 off games at our pop-up store (vendor TBA).
COSPLAY IS ENCOURAGED! Wear your costume and win prizes for best cosplay. It's

Comic Con 2020

PAX 2020

Comic Con 2021

PAX 2021 weekend, after all! FINALLY!
Who Attended
Matt Winberry
Ben Christensen
Christine McCormick
Adam Woods-McCormick
Melissa Poole
howsun
Kristy Gilmer
Douglas Ende
Vitaliy Kosanovskiy
Robert Mitchell
Kelly Walker
Gavin Gregory
Rachel Agent
Caio Schmidt
Jennifer Shafer
Brad Ohman
Julian Shirland
David Fooden
Cliff Gilley
Lael Smith
Leigh Momii
Alexander Kim
Lacy Dove
Beth Mikulka